Join Sean Mendis as he shares his highly acclaimed stories and anecdotes about travels and travails while running an airline in West Africa.
---
2010 : TEMPO 15025G35KT 0100 +SN FZFG OVC000 SNOCLO

Snow shuts down airports in Europe, fuel tanks run dry in Ghana and an emergency landing strands hundreds of passengers in remote Algeria. It takes a special team of people to keep the show on the road.

"Riveting. Absolutely riveting."
"A truly fascinating report of what goes on behind the scenes!"
"An amazing story, brilliantly told!"

Now available exclusively from Amazon.com
as a Kindle eBook.
---
2009 : How to start a new route in 45 days and other tales from the airline world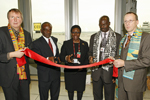 When management decided in October that the airline would launch flights to Germany on November 29th, the author's plans for a quiet build up to Christmas went out the window.

"Always a pleasure to read!"
"Gripping stuff and highly entertaining."

---
2008 : Arctic to equator endurance record on a 757

Thin, long and gangly, who would have thought when it was first launched that a Boeing 757 would one day fly nonstop from the Arctic to the Equator?

"Something like a challenge from Top Gear"
"The 757 never ceases to amaze!"

---
2007 : How I learned to stop worrying and love ETOPS


An aircraft engine has to be shut down over the middle of the Sahara desert. Will the team be able to deliver a safe result and a happy ending?

"Incredibly interesting reading! Great stuff!"
"I was on the edge of my seat!"
"What an unbelievable story."


---
2007 : Business as Usual : A month in the life

How much drama can one squeeze into a single month? If you live in Africa, quite a bit. Follow the author from Lagos to London to Hong Kong as the month unfolds.

"Abso-frikkin-lutely brilliant!"
"Better than 'Air Babylon'"
"Superbly written, witty yet informative"


---
2007 : I took six young women to Paris and all I got was...


The author has the enviable task of introducing six young ladies to the City of Eternal Love. What kind of events will unfold as they make their way through Malta and Morocco?

"Brings back memories, all good ones, of a time before air travel become serious business"
"Highly entertaining with a good dose of humour thrown in"


---
2005 : How to travel the world and stay (arguably) sane

Life as a road warrior can get very lonely. The author shares his stories of friendships made and maintained around the world.

"Wow... amazing journey!"
"Not just the trips, but the style, the humour, the pictures... bravo!"
"Addictively charming with real personality"


---
Check out other travel writings by Sean Mendis at Airwhiners.net.