How To Start A New Route In 45 Days And Other Tales From The Airline World
by Sean Mendis
---
(Subtitled as ACC-LGW-ATH-LHR-AMS-LGW-ACC-AMS-DUS-AMS-LGW-ACC-LGW-SOU-HAJ-CGN-LGW-ACC-LGW-STN-DUS-ACC-LGW-CGN-DUS-MAN-LGW-DUS-LGW-ACC-LGW-NCL-AMS-DUS-ACC-DUS-CGN-SOU-LHR-BOM-BRU-DUS-MAN-LGW-ACC)
Disclaimer : The below narrative is based upon a true story but names have been changed, abbreviated or withheld for various reasons. Some details may have been withheld or modified to protect the privacy of individuals and organisations. Any resemblance to actual events or organisations should neither be assumed nor is implied.

---
When the management team decided in our collective wisdom back in October that our airline would launch flights to Dusseldorf starting on November 29, I suspected that my plans for a quiet build up to Christmas were not going to come to much. Little did I realise just how hectic those few weeks were going to be....
Still, I had managed to make it through to mid-November with only two trips to Europe in the previous month. As I prepared for my semi-annual pilgrimage to the IATA Schedules Conference - this year being hosted in Athens, Greece - I was somewhat optimistic of a smooth opening.
An overnight flight into Gatwick and a quick shower at the YOTEL left me standing in front of the Olympic checkin desks at South Terminal waiting for a Swissport agent to show up and open checkin. They eventually did and I made my way to the boarding gate well ahead of time. I need not have rushed as the inbound flight was running about 30 minutes behind schedule. Still, they made up some time on the turnaround and I was pleasantly surprised to find rather generous legroom on board this old 737-400 for the 3.5 hour ride down to Athens.
I keep referring to Eleftherios Venizelos Airport in Athens as the "new" airport, but its actually been around for the better part of a decade now. As Greek airports go, this one is actually reasonably efficient, if not particularly aesthetically pleasing. Most importantly though, it has a very convenient Metro link into town. Two changes and an hour later, I am walking through the doors of the Intercontinental Athaeneum where our conference is being hosted. Despite the fact that it is almost 5pm, my room is still not ready, but I use the opportunity to grab my registration kit, schmooze a bit and return to the lobby. The reception staff have delivered me a very nice suite in the interim, which more than makes up for the minor delay.
After dropping my bags off and checking emails, I head back into town to grab a quick dinner. There is something about the gyros in Greece that simply cannot be duplicated elsewhere. Absolutely delicious. On a balmy November evening, a light breeze blows as I sit by the one of the many ruins and savour the food, looking up at the beautiful lights of the Acropolis towering proudly above the historical city. I count my lucky stars to not only have the opportunity to experience this moment, but more importantly, to truly appreciate its timelessness.
The next day is a whirlwind of meetings and slot swaps but I get all my schedules finalised and head back to the airport for my flight to Heathrow. Being a Friday night, I am not really looking forward to the presumably packed 737, a feeling of apprehension that is reinforced when the on-line checkin system tells me that I need to check-in at the airport instead. There are seperate counters for the London flight and despite the seemingly lengthy queues, things seem to be moving pretty quickly. I find myself at a checkin desk no more than 10 minutes later. To my delight, it appears that the aircraft has been swapped to an Airbus 340 due to the significant oversale. Even more delightfully, a few minutes of flirting with the checkin girl has worked its magic and I find myself with a Business Class seat and an invitation to the Aristotle Onassis lounge. Always good to see that I haven't lost my old charm.
The Onassis lounge is somewhat spartan for refreshments and decor, but I am especially fascinated by a wonderful collection of photographs featuring Aristotle and Jackie O back in their heyday. I kill an hour or so in the lounge and then wander down to the gate where the poor agents appear to have been mobbed by a few hundred passengers all trying to push their way onto the aircraft at the same time. Once aboard, I find myself in a comfortable older generation longhaul seat that is perfectly adequate for the 3.5 hour flight up to London. Dinner is served shortly after takeoff and I pick the salmon option. Then an hour of naptime before we are on approach to Heathrow.
Terminal 2 immigration has a horrendously long line tonight and the icing on the cake is that IRIS is broken, so I must deal with a human being. That is like, so 20th century. This human seems to be highly confused about the very immigration rules she is meant to be enforcing. Dialogue is something straight out of Monty Python.
"What is the purpose of your visit?"
"I have a flight to Amsterdam at 630am"
"So you are in transit?"
"Yes, you could say that"
"You do not have a transit visa"
"I know, I have a work permit"
"Yes, I can see that. But you need a transit visa"
"Excuse me?"
"A work permit allows you to live and work here but doesn't permit you to transit"
"Uhh...."
"Next time please ensure you have the correct visa"
"Um ok"
I'm quite befuddled by the entire thing but its been a long day so I don't argue. I pick up my bag and take the Heathrow Connect over to Terminal 4 where the YOTEL awaits.
The YOTEL, for those unfamiliar with the concept, is a stylishly post-modern capsule hotel located in the bowels of major international airports (Heathrow, Gatwick and Schiphol to date). The capsule itself consists of a bunked bed (alternate cabins have either upper or lower bunks to save on space), a flat screen TV, a shower, a toilet, wifi and umm... well, that's all. Spartan yet delightfully chic, and perfect for a short overnight stop when you don't want to deal with hotel staff. Indeed, thanks to the automated checkin kiosk, I never interacted with a single YOTEL employee my entire stay.
Up at 430am for a quick shower and the first Heathrow Connect of the morning to Terminal 1. The BMI kiosk doesn't want to check me in, so I have to deal with a human being to collect my boarding pass. Then its onward through security and the deserted terminal to our gate where a few dozen equally sleepy fellow passengers are already boarding. The light load means that I have no seatmates and I nod off before we even push back. The crew wake me up for the snack service and I purchase the breakfast sandwich thingy together with a coffee. Landing is on the Polderbaan and we taxi a solid 25 minutes before we get to the gate. Today was literally one of those days where the taxi times were longer than the flight time!
A busy day of meetings and training for agents in Amstelveen and I'm back at Schiphol in the late afternoon for my easyJet flight back to Gatwick. My pet peeve with easyJet is that their carry-on allowance permits EITHER a carryon OR a laptop. As I refuse to release the laptop, I invariably wind up having to pay ?18 to check-in my 3kg tote bag containing dirty clothes. Today is no exception. Checked luggage also means that the best one can realistically hope for is the dreaded Group B, which, counterinuitively, is actually the 4th (and final) group to be called for boarding. Not that it makes any difference at Schiphol, since the Menzies staff who handle easyJet pay absolutely no attention to boarding groups and permit a free-for-all scramble. I'm fortunate enough to get an aisle seat near the back today and the flight passes quickly and relatively painlessly. The upside of easyJet of course is that it flies directly into Gatwick, giving me all of a 5-minute walk to the Hilton. Dinner is Chinese takeout with some of the crew followed by the monthly Gatwick handling agent meeting during the day and and the Sunday night redeye flight back home.
A couple of days later, it is time to head back to Dusseldorf, this time for meetings with our ground handling agents there. Atrocious weather is forecast so rather than take our chances transiting between London airports, we plan to fly directly into Amsterdam on KLM and take the train. The MD-11 this evening has been reconfigured with the new economy seats featuring AVOD, which is a big step up from the ratty old interiors they used to offer until recently. I am lucky to have an empty seat next to me and am able to grab a few hours of shuteye. The snow is already beginning to fall as we disembark and head to the train station but the rail connections go smoothly and we arrive at Dusseldorf about 20 minutes before our first meeting. I am relieved that we chose the train today as the inclement weather has already shut down the airport. A full day of work succesfully completed, we head back towards the airport railway station where things are an absolute shambles by now. Trains are running anywhere from 45 minutes to 2 hours late. We huddle on a freezing platform for 20 minutes before the next train comes along and hop on board up to Duisburg. Another 40 minutes at Duisburg (where I warmed up with a nice kebab) and its on board the ICE to Utrecht, where we have another 35 minute wait for a train to Schiphol. As icing on the cake, we emerge from the terminal just to see the hotel shuttle pulling away and another 30 minute wait. A journey that should have taken just about 2h45m wound up lasting just under 6 hours in the end. Never has the overpriced beer in a noisy hotel bar seemed more welcome.
Still, chin-up soldier. Up at dawn for another nasty easyJet experience. This one is even worse than usual as we have a 90 minute delay due to the lousy weather. Even worse, I am stuck in a middle seat next to a smelly rastafarian with a runny nose. It is an uneventful flight and the Hilton Gatwick awaits me on the other end. A routine overnight and a meet-up with a friend from Australia the next day before its time for my usual Sunday night flight back home. We are now 7 days away from the launch, what I like to call the final countdown.
Monday morning starts badly. We land at 6am and I head home from the airport to grab a quick shower before heading in to the office. It's barely 8am when LW calls from Dusseldorf with the news that the Luftfahrt-Bundesamt (German CAA) has requested a meeting on Tuesday afternoon in Braunschweig. Getting to Braunschweig from Africa isn't very easy though. We confer for a while and finally decide that I will take the Monday night redeye back up to London, grab a rental car down to Southampton, catch the 930am flyBE flight over to Hanover where LW will pick me up and drive us over to Braunschweig. After the meeting we will drive back down to Cologne where I will catch the 930pm easyJet flight back to Gatwick and connect to my 11pm redeye home to Africa. Sounds complex but it all worked like clockwork in the end.
Back in the office on Wednesday morning, our launch team goes through the final arrangements for the inaugural flight. There are the usual minor catastrophies. Our chief guest has been refused a visa by the German Embassy because his passport photograph didn't have a white background. The commemorative certificate for passengers has a spelling mistake. The guest list for the media event has grown to 53 and the planned venue has only 40 seats. The Germans want our liability insurance policy listed in Euros rather than Dollars. Nothing we can't handle though. We wind up the meeting around 4pm and I head home early to pack for the weekend. Yes, I'm heading back to Europe again on the redeye tonight, my 5th overnight flight in the last week.
Among my other roles at our airline, I chair the committee in charge of Inflight Product development. Catering falls under our purview and with our London catering contract up for tender, our two finalists are due to make their final presentations to us on consecutive weeks. With the Christmas break approaching, we need to squeeze these into our schedule around the Dusseldorf launch. Contrary to popular perception of an all-you-can-eat-buffet kinda atmosphere, airline catering presentations are actually quite intense and detail oriented. The most likely phrase to be heard is something like "How about we drop the cherry tomato and use only a half-olive but up the lettuce by 5 grams". Still, as presentations go, this one was actually quite enjoyable. We spend almost 6 hours picking at various foods and leave the unit at the end of the day with the outlines of next year's menu rotations in place.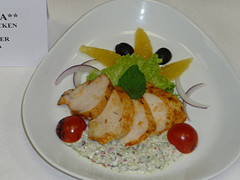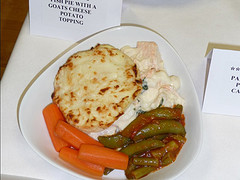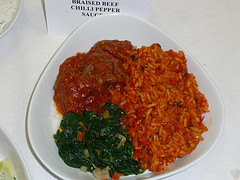 So, you may be thinking at this point, finally he gets to sleep comfortably in a bed for an entire night. Ha! Fat chance. Up at 4am for the drive around the M25 to Stansted and a 7am Air Berlin flight to Dusseldorf. The Sheraton Dusseldorf Airport is very conveniently located atop the terminal carpark and they have a room ready for me to check in to at 10am. Check my emails and then its time for my 11am meeting with LW, followed by a lunch meeting with the Airport Authority to finalise the inaugural event logistics on their end. The Germans really micro-plan everything. Even the specific gate is chosen to offer the best views for the media. And then at 5pm it strikes me. We're done. I go through my checklist again. Each box has a tick in it. I can officially take the day off tomorrow. More importantly, I can finally get a full night's sleep in a bed.
I have a ritual that I tend to follow the night before I open a new station. I watch the movie "Love Actually". I know, its not very manly or something most people associate with airline management. In fact, the movie itself is irrelevant. I just watch the opening credits over and over again and replay Hugh Grant's words in my head.
"Whenever I get gloomy with the state of the world, I think about the arrivals gate at Heathrow airport."
I wish every airline manager sat down and did this once in a while. It would remind us of the responsibility and trust that hundreds of perfect strangers place in our hands everytime they buy a ticket. They are entrusting us with playing a role, a tiny but key role, to facilitate their work, their dreams and their lives. When they come through arrivals and their faces light up at seeing their loved ones, for a brief moment the hundreds of man hours of hard work that go into each and every airline flight suddenly seem all worthwhile. The opening of a new station is one of those times that I choose to reflect on this and remind myself why I keep doing what I do.
Saturday passes peacefully. I meet up with a friend for coffee and visit the Weihnachtsmarkt (Winter Market). The winter markets are a big tradition in Germany. Every major town (and some minor ones too I'm sure!) sets up an open-air marketplace where vendors sell everything from traditional Christmas foods to kitschy costume jewellery. They are always fun to wander around, view the decorations and sample the cuisine. I then retire to the hotel with a kebab and enjoy watching my alma mater Georgia Tech win a thrilling football game against our archrivals Georgia. Then its back to work briefly to make sure the flight plans have all been filed and accepted appropriately. It is all in place. To my chagrin though, we have a very strong tailwind which means a short ATC hold at origin to ensure we don't hit the night noise curfew at Dusseldorf. At 2310hrs UTC, I get the call I was waiting for. The aircraft has taxied. She is airborne a few minutes later and we have an ETA of 0513hrs UTC, 32 minutes early and just squeezing in behind the overnight restrictions. Now, its time for a few hours of excited sleep. It is going to be a very busy day tomorrow.
Up at 4am and get suitably prepped for the day. Mom calls shortly thereafter to wish us good luck. Slowly but steadily the local team checks in via text message to advise they are leaving their various homes en route to the airport. Finally at 540am, my trusty airband radio picks up the voice of Capt.G on company frequency as they make their way over Switzerland and into Germany. I meet up with the team in the terminal and head through security. At 613am, we see the aircraft flare and touchdown gently on runway 05R. LH from the airport authority claps me on the back. He's been working on this project for 4 years with me and this is the culmination of a lot of effort.
As she pulls onto stand, the choreography of the turnaround begins. Doors are opened, baggage unloaded, fuel trucks arrive. The photographers start flashing for posterity. Passengers head off to immigration and then its time to head back to the landside ourselves for the start of the days festivities. The airport authority is hosting a breakfast for the VIPs and media who came in on the inaugural flight so I spend a while schmoozing with them. As the sun comes up, we escort the group to a waiting bus where a tour guide is ready to give them a guided tour of the city. This serves the additional purpose of getting them out of our hair while we start preparing for the return flight.
As the morning progresses, I coordinate with the Airport Authority the final list of speech givers, and more importantly the list of people who shall receive gifts from each side. Protocol demands that each side shall have the same number of speeches and the same number of gifts exchanged. Care must also be taken that the gifts are handed out in descending order of seniority. Our side has a civil servant from the Transport Ministry as the ranking member, while the German side has the North Rhine-Westphalia regional Minister for Integration. I must also ensure that our CEO's speech has the correct names (and pencil notes with the correct pronunciation) to thank for their support.
Checkin opens right as the tour bus arrives back at the terminal with the posse of journalists and VIPs. Having been suitably immersed in the culture of the city, the scribes pan out with a newfound zealousness to scrounge quotes out of even the most reticient or unaware bystander. I try to dodge most of the journalists but eventually I am cornered by a guy from AfricaOnline24 and give him a short interview. Then its down to the gate where the caterers have laid on a fabulous spread for passengers and invitees.
I circulate through the crowd looking a bit like a Secret Service agent with one earpiece and a bulge under my jacket. No, I'm not on personal protection detail but I've rigged up my radio to feed live ATC to alert me when the aircraft is overhead. About 15 minutes behind schedule, I hear the melodious Irish brogue of Capt.M in my left ear followed shortly by touchdown and taxi to gate. We quickly arrange for passengers in transit to disembark into the secure gate area. Some of them complain a bit initially but they shut up once they see the goodies awaiting them. The photographers now scramble on board and start snapping away. Always on the lookout for a good photo-op, I had even asked crewing to deadhead an extra pilot to pose for pictures with passengers and media so as to not distract the guys actually flying the leg. He is busy grumbling that "I'm a pilot not a mascot" but cheers up quickly when he sees the lovely ladies he gets to stand next to. We take pictures holding all sorts of signs commemorating the inaugural and then its back up to the gate for the speeches and gift-giving.
The speeches are the typical exchange of platitudes that can be expected under the circumstance and are richly peppered with adjectives like "historical" and "momentous". I do however blush when I am singled out for congratulations by both our CEO and the Airport Authority for my contributions towards making the route come to life. Gifts are exchanged, including a surprise one for me from the Airport Authority, throwing off the carefully planned balance! Our gift to the Airport Authority of a hand-carved commemorative wooden stool draws oohs and aahs from the Germans.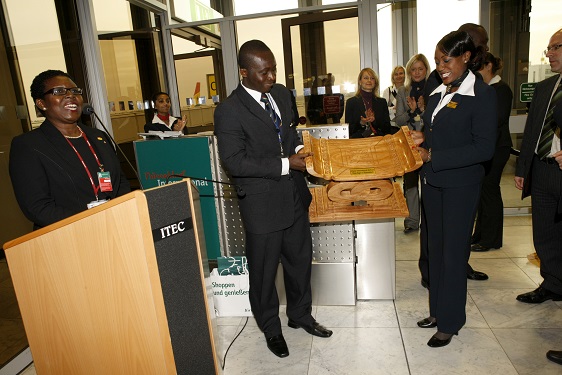 Speeches are now concluded and the dignitaries line up to cut the ceremonial ribbon to symbolize all clear for boarding. Interesting tidbit - the scissors for the ribbon cutting had to be enclosed in a special case under supervision of a dedicated security officer. They were handed to the dignitaries to cut the ribbon and collected immediately thereafter. Thankfully the airline CEO and the regional Minister of Integration for North Rhine-Westphalia did not try anything dodgy in the interim.
Passengers file on board and are handed goodie bags at the top of the jetway. The giveaways today are nothing fancy, featuring a commemorative certificate, keychain and luggage tag, but the passengers seem to appreciate the thought. We close up and push back into a steady drizzle about 35 minutes late, a direct result of the festivities. As we taxi out, I see the planespotters out in force despite the weather, living up to their nickname of "anoraks" today! We fire up the engines and take to the skies. I have a huge smile on my face.
Back in the office the next morning and there is much good feeling after the succesful inaugural. I am just glad to be on the ground for a few days after the hectic last few weeks. It is not for long though. The second round of menu presentations is due on Thursday in London, so Wednesday night sees me back on the redeye. The presentation goes very well (in fact, the second company actually won the tender in the end but we didn't actually decide on this until a few weeks later) and I am especially pleased by the bespoke chicken curry that the executive chef whips up for us after some feedback.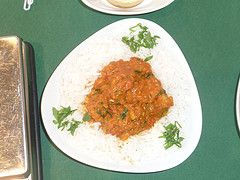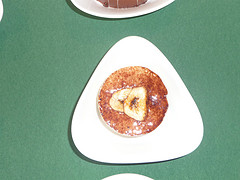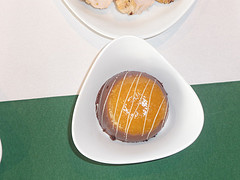 Presentation done, Thursday evening sees me back at Gatwick for the late night easyJet to Cologne. I have meetings in Dusseldorf on Friday to review the inaugural and also plan for the upcoming Christmas peak season. After a night at the Hilton Cologne, I'm back on a train to Dusseldorf in the morning. Thankfully the weather is a lot better than it was two weeks ago. Wow, was it only two weeks? Seems like a lifetime.
In the afternoon the bomb falls. We have an operational issue that will prevent us from operating to Dusseldorf this Sunday. I have always considered the first 4 weeks of a new route to be the critical period. If you can come through those succesfully, your route will continue to grow. If you blow it, start working on the exit strategy. Once you get a reputation at an airport for always being empty/delayed/unreliable/whatever, its very hard to shake it. It was critical that we came up with a plan B.
My intention had been to fly to Manchester after my meetings and hang out with some friends for the weekend before heading back to base on the Sunday. This was quickly placed on the back burner as I worked the phones frantically. After a couple hours, the following facts were in front of us. Our Gatwick flight was still going ahead as planned. Nobody flies nonstop from Gatwick to Dusseldorf. (Ed note : flyBE has begun operating this route from 22JUN09 however.) We cannot rebook and transfer passengers between Gatwick and Heathrow/Stansted because of transit visa restrictions. The only flight from Gatwick to Cologne was on easyJet but it ran too late at night to be of any use. Hit a wall? Lets think outside the box for a minute. How about we charter a small aircraft and move the passengers across on that. I make some calls. Within the hour I have a few offers. I tell them I will confirm by Saturday afternoon. Then I check in for the last flyBE flight of the evening to Manchester. Tonight was my time to get shitfaced 'cos Sunday was going to be a busy day.
Saturday morning finds me somewhat hungover in Manchester but a nice Hilton breakfast has me perky by the time afternoon rolls around. I love the Hilton Manchester Airport breakfast because they always have wonderful pancakes. I don't know what they put in them, but those pancakes really hit the spot. After reviewing the various offers from the brokers, the consensus seems to be a small Spanish operator who I have never heard of before but who I am assured are highly professional and reliable. I sign the contract and fax it off from the hotel before walking over to Terminal 3 and checking in for my British Airways flight down to Gatwick. Chinese takeout for dinner and I turn in early at the Hilton Gatwick. Long day ahead tomorrow.
It's six thirty A.M. and I am standing in the freezing cold of a December morning watching our aircraft taxi in. The Spaniards are running a little behind schedule but nothing that will throw off our plans for the day. We page the Dusseldorf passengers as they disembark, hand them their onward boarding passes and a ?5 voucher for breakfast, and then point them on their way to flight connections. A while later, our Spanish galleon arrives. We herd up the Dusseldorf passengers and bus them out to the waiting aircraft. I have to accompany the flight to Dusseldorf and back, so I am uncharacteristically in my loadmaster uniform this morning (I always carry it with me but hardly ever have the need to use it!). I never quite noticed before how many heads turn (especially 20-something women) to look at a man in uniform. I really should do this more often.
An hour flying time to Dusseldorf and then its time to do the entire drill again, but in reverse. We have to make sure that everyone has their onward boarding passes in hand before they leave Dusseldorf to ensure the shortest time on ground in London. We are holding the departure at Gatwick to make sure these folks can connect, so time is off the essence. Everyone loads up but we have a minor problem on the ramp. This regional aircraft is not built to accomodate longhaul passenger baggage. We are ok for weight (barely), but we are going to have to leave some bags behind for volume. The wonderful ramp supervisor volunteers to take the bags over to baggage services immediately and get them rush tagged up to reroute on the 2pm Emirates flight connecting for an 11am arrival the next morning. Its a 15 hour delay for the bags, but thats the best option under the circumstances.
Another hour back to Gatwick where buses are waiting on the ramp to immediately transfer the passengers over. We herd everyone quickly through Flight Connections and down to the gate. Everyone else is already aboard and its only minutes before we close up and push. A routine flight down and its home for a quiet Sunday night.
With my previous weekend plans in Manchester cut short by the Dusseldorf drama, I am determined to take that break this week. I call my good friend who flies for Emirates and check her schedule. She has a Newcastle layover on Saturday. That works well for me and we make plans to meet up. I fly up to London on the Thursday night redeye for the monthly Gatwick handling meeting on Friday afternoon. Then its up to Newcastle on flyBE. This commuter route is probably not the wisest one to nonrev on a Friday evening, but I'm lucky that there are enough no shows to squeeze me into one of the last seats on the Dash 8. Onward to the Marriott Metrocenter for a generic room service dinner of club sandwich and chips before I fall asleep with the TV on.
Saturday morning is horrible and wet but the Emirates crew arrive as planned and my friend is banging on my door just before noon. Thankfully the Metrocenter mall is just across the street so we can spend most of the day hanging out and finishing up Christmas shopping. We're both working tomorrow so we have to quit drinking early, but there is still time for a late movie. Back to the hotel around midnight where we say goodbye and make plans to meet up again in a few weeks when she has a Manchester trip. Another 4am wakeup call and I'm in a taxi to Newcastle airport. A middle seat on the first KLM flight of the morning awaits me followed by a short transfer at Schiphol and the last row on a Fokker 50 into Dusseldorf for a morning of work and the afternoon flight back home.
The airline business is strange. Airlines can be the fiercest competitors but they will also call upon each other to do favours that will one day be paid back. And so it was the case early Monday morning when my phone rang. It was an old friend from a European charter airline who were doing some Hajj work in Nigeria, a neck of the woods that they were not quite familiar with but where I have had a fair bit of experience. Unfortunately one of their captains had made the mistake of saying the wrong thing to the wrong person and found himself being deported on the next plane to London. This of course left them with the twin problems of an entire crew sitting in Lagos sans captain and an aircraft that would be grounded until they could get a replacement down. I owed them a few favours from a past life. Have the replacement pilots at Gatwick by 11am and leave the rest to me.
A few calls later, I have arranged with some friends at a Nigerian airline to have some seats held for these pilots on their first flight into Lagos the next morning. More importantly, I have arranged for them to bypass immigration and be led directly to their aircraft. This goes like clockwork. I also arrange a ticket for another captain to head back home from Lagos to London so he could head off on his much anticipated Xmas vacation. This doesn't go quite as well. Rather ironically, considering the fate of his colleague a few days ago, the checkin agent is reluctant to permit him to leave the country as he does not have an entry stamp in his passport (this despite him being in full uniform with his crew ID). He is quite flustered and calls me to ask if there is anything I can do. I ask to speak to the checkin agent.
"Is there a problem?"
"Oh sah, captain has nothing from my kreesmas"
"Ah you want him to dash you something?"
"Heh"
"I tell you something my brother. My friend in Lagos, he may have something for your Christmas. He is M.D. of your company. But I don't think you will like what he has for you. In fact, it will be a shame that he has to give this to you at Christmas time. Anyway, let me call him right now."
"Oh sah, no need to do that oh! Next time captain comes he can bring me something ok?"
"Excellent idea. Thank you."
It was a lesson that I had learned on my first business trip into Nigeria many years ago. If you need to get some work done and run into a human wall you have two choices. You can bribe your way through (and develop a rep as the foreign sucker who can be tapped up for a few bucks every time), or you can stand your ground and calmly threaten them with consequences. If you are in the right and know the correct names to drop, the latter usually works well. One boarding pass later, there was at least one pilot who was a convert to this school of thought.
Friday afternoon, I get another call from my charter friends. There is a problem with their overflight permits for Libya and of course, the office that can correct this is closed on a Friday. They definitely don't want to leave the aircraft overnight in Nigeria, so would I mind terribly if they sent us a 757 to babysit overnight while they get things sorted out? Sure, when can we expect it? Well, its actually taxiing at Lagos right now. You'll have it within the hour. A flurry of phonecalls to arrange landing permits, overnight parking and ground handling are barely complete before the aircraft touches down and is directed to a remote stand. The crew are shipped off to a hotel while I hang around with the engineers as they shut down the systems and we seal up for the night.
My good deeds seemingly done for the week, I turn my thoughts towards my own Xmas trip. Regular readers of my trip reports will recall my annual winter pilgrimages to India carrying large frozen turkeys. It is also the time of year that I like to treat myself to a premium product that I haven't sampled before. This year I have decided to fly British Airways First from London to Mumbai and return on Jet Airways First. After this particularly stressful month, this pampering will be much appreciated.
After seeing our surprise guest off to Jeddah safely on Saturday afternoon, its time to head back to Dusseldorf myself on Saturday night. I'll be overseeing the departure there on Sunday afternoon, flying to the UK later that evening, and then onwards to Mumbai on Monday night. The day in Dusseldorf goes smoothly enough and I head over to the flyBE's desk in the late afternoon to check in for my flight. Unfortunately the departures to both Birmingham and Manchester that evening were looking pretty full, so I decide to take the Southampton flight instead which is wide open. The friendly Swissport agent issues me a seat at checkin itself.
As flight time approaches, I am a little disturbed to see that the airport website no longer lists the inbound flight as "EXPECTED". Sure enough, a few minutes later there is a PA announcement for all passengers booked on the Southampton flight to please proceed to the gate immediately for some "important information". Over there it is explained to us that the inbound flight had to return to Southampton because of a medical emergency. Even though they were now en route again, the night curfew at Dusseldorf meant that we would not be able to depart from there tonight. However, flyBE had arranged for a bus to drive us to nearby Cologne airport (which is open 24 hours) and our aircraft would operate in and out of there instead. There is much grumbling among the passengers, but the general consensus is that this was the best option available. I approach the Swissport agent and ask her if there was anything I could do to assist. She thanks me and asks me if I wouldn't mind helping out when we got to Cologne by ensuring everyone wound up at the right counters for the baggage drop they were setting up. Not a problem.
The drive to Cologne takes just under 45 minutes. Once there, I quickly track down a Swissport agent who had been waiting for us. She points us in the direction of the oversized baggage belt where we have to hand in our checked luggage again. Then it is through Immigration and straight to the gate where the Dash 8 from Southampton has just landed. We are all boarded within minutes and after a short flight arrive in the UK less than two hours behind schedule. I was a bit worried that Hertz would have closed but thankfully they had stayed open to accomodate the pickups from the delayed flight. Overall a big kudos to everyone for a wonderful recovery from an unfortunate and unavoidable situation.
After a short night at the rather disappointing Hilton Southampton, I head out to TESCO in the morning to purchase my frozen turkey and other Christmas supplies. Then I hit the road for my drive up the M3 to Heathrow. Traffic is moderate and I arrive at Terminal 5 just after 4pm for my 930pm flight. I am beginning to get quite excited now. This is my first time flying out of Terminal 5 in a Premium Cabin and also my first time in BA First. I had tried out the new Club World last year at Christmas and was so pleased with it that I decided to up the ante this year and splurge on the front cabin.
As I enter Terminal 5, I see the signs for a dedicated First Class checkin area but it is way on the other side of the terminal so I just walk up to the nearest kiosk and try to check in there instead. Unfortunately it won't let me do so for whatever reason. An employee sees my difficulties and escorts me over to the Assistance desk where my Boarding Pass is quickly printed and my bags tagged. I note that there are no Priority Tags used. The friendly agent hands over the boarding pass with a "Your seat number is 2K. Please use the Fast Track lane through security and have a pleasant flight."
Security is relatively painless and I soon find myself in the very nicely appointed First Class Lounge. After browsing the internet for a while, I discover that the "First Class Lounge" is not actually intended for the use of First Class passengers, but rather for BA Gold Card holders. First Class passengers are instead expected to use the "Concorde Room", which is signposted as "By Invitation Only". Evidently your First Class boarding pass serves as your invitation, but there is nothing on the boarding pass itself to advise you of this. The conventional wisdom on the British Airways forum is that the Concorde Room is the veritable Holy Grail of airport lounges, so I pack up and walk across the hallway to give it a try.
To say that I was severely underwhelmed would be an understatement. There was no greeting from the staff on entry, he just scanned my boarding pass and handed it back to me without a word. The lounge itself seemed to be essentially a mini version of the First Class Lounge, except without a self-service buffet. There were a handful of neatly attired waitstaff standing by the bar, so I found myself a seat and waited for one of them to come by. After 10 minutes of sitting around, it appeared that they were not going to come around themselves so I walked over to the bar and asked if there was any food on offer. I was wordlessly handed a menu. Alas, the food on offer was a joke - essentially a choice of hamburgers, sandwiches or random microwave meals - hardly the restaurant quality dining experience that the BA experience seems to promise. To make things worse, the lounge was full of a group of obnoxious kids traveling to Dubai with their obviously important/royal parents, and they spent the entire time running around screaming and throwing things at each other. After another 10 minutes of trying to read a magazine (there was an excellent selection of reading materials, I will hand them that) amid the zoological ambience, I gave up and went back to the First Class Lounge across the hall where the service, decor and food selection was significantly better.
Around an hour prior to my flight, I checked the screen to see that it was advising to proceed to the B-gates. There had been signs all through the terminal warning to leave at least 35 minutes to transfer to the B-gates, so I quickly packed up and headed out. Exactly 6 minutes later, I was standing in front of the deserted departure gate. The agents show up a few minutes later followed closely by the crew. To their credit, boarding commenced promptly thereafter, but of course the entire horde of passengers decided to rush the gate all at once. The poor agents were screaming at passengers to sit down and board only when their rows were called and the passengers were screaming right back at them. I tried to sneak through the priority boarding lane but after being rudely yelled at by the very flustered agent that "If you are not in Club World you need to sit down and wait till we call your row", I decided not to press the issue. The agent was very red faced and apologetic a few minutes later when I presented my First Class boarding pass and asked if she had called row 2 yet. She stammered out an excuse about ineligible passengers always trying to cut into the priority line. I laughed and told her not to worry about it.
On board the aircraft, the chaos continued. The family in front of me couldn't find their boarding passes and held up the entire line while they rooted around in the side pouches of their luggage. I tried to go around them but the crewmember at the boarding door stopped me and asked me to wait my turn. When I finally got to my seat, I was surprised to find that it actually had residual food particles from its previous occupant scattered in the armrest. I alerted a passing crewmember who was quite apologetic and returned with a napkin a few seconds later to scoop them up. My jacket was meanwhile left on the side panel and remained there as the crew came around with pre-departure drinks. I was a bit disappointed that the only choice on the tray when they reached me was water, although the crewmember did offer to "get you something else if you want". A ramekin of assorted nuts was also provided. A few minutes later another crewmember was walking through the cabin and for some reason decided to clear away my still half-full glass of water. After the safety demo was screened the crew came around for their compliance checks and one of them pointed out my jacket still sitting on the side saying that "you can't leave it there for takeoff". "Well, perhaps you could hang it up for me then?". She worldlessly picked up the jacket and disappeared. A few seconds later, she returned and swooped up my now-empty ramekin of nuts as well. I was quite disappointed by the standard of the experience to this point. The general impression was that BA was doing us a favour by offering First Class on an underserving route like this, so we either lump it or leave it.
Once airborne, the crew came around taking dinner orders. I asked for the lamb, but was advised that it had not been loaded today. Instead, they were offering a special Christmas turkey alternative. Ok, I'll have that instead. A few minutes later, she comes around again with a very apologetic look.
"I'm sorry sir, but they haven't loaded enough of the turkey meal either."
"Ok, what do you have left then?"
"Well, we have the spicy halibut. And we also have a cauliflower curry."
"Could I perhaps get something from Club or Economy instead?"
"Sorry sir, but we are not permitted to mix catering across classes".
"Fine, I guess I have no choice but to try the halibut then".
"I am terribly sorry about this sir. Would you prefer the salad perhaps?"
"No thanks", I replied with an ironic laugh. "I have an unhealthy lifestyle to maintain!"
The meal service itself is efficient but slightly rushed. The cabin lights were dimmed before the service started (even though everyone in the cabin was wide awake and partaking of the meal) so the general ambience was somewhat gloomy. Canapes are served with cocktails, followed by a starter of Duck Breast. The spicy halibut main course wasn't quite to my tastes and I just picked at it. Dessert was a quite divine sticky toffee pudding and I finished it all up with a glass of the desert wine. In general, the meal was a disappointment however, especially for an international First Class product. I wasn't quite left hungry, but definitely not satiated either.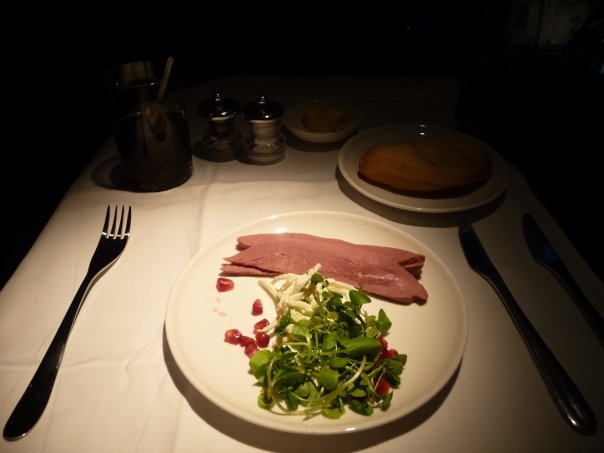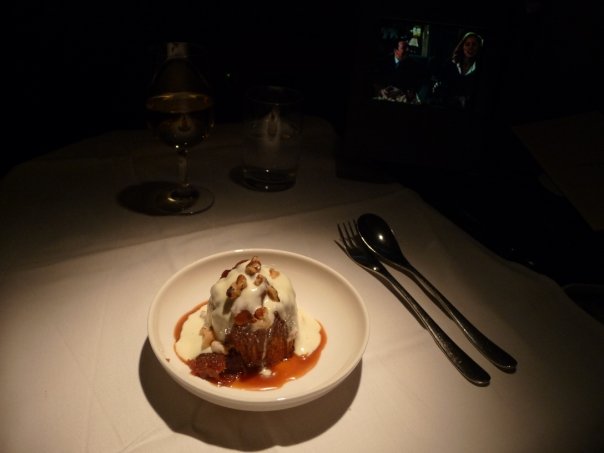 Meal complete, I noticed a couple of other passengers heading to the lavatories with what looked like sealed amenity kits. I searched my seat area to see if I had overlooked anything, but couldn't find one. I walked to the galley and asked the crewmembers if I had perhaps misplaced mine. "Oh, we would be happy to provide you with an amenity kit and pyjamas upon request". I was flabbergasted. Upon request??? This is a 9 hour overnight flight in First Class and you only hand out amenity kits UPON REQUEST???? No thanks, if its such an imposition, I'll use my own toiletries instead.
Back at my seat, I flick through the available IFE. I'm not a huge fan of PTVs and AVOD, so the excellent selection of non-AVOD programming more than made up for the tiny screen. The seat itself was quite comfy and opened up into an excellent flat bed. The crew did actually come around to offer a nice duvet (not just "upon request" this time!) which I gratefully accepted. Although the pillows were a bit lacking, the offering was definitely one of the more comfortable ways to sleep at 37000 feet. Which I did, for about 5 hours.
I woke up and cracked the window shade to find the sun steadily ascending into the morning sky. My stomach rumbled, reminding me of my abbreviated dinner the previous night. The Menu advertised some interesting choices of anytime snacks, so I picked it up and approached the galley.
"Good morning sir, what can I get for you?"
"Well, I was wondering if I could get one of the snacks from the menu please."
"Certainly, which one would you like?"
"Could I get the sandwich please?"
"Oh, I don't know if we have any of those."
Oh dear, not again.
"We were planning to serve breakfast shortly though. Would you like us to serve you that right now?"
"Yes, I think that would work, thanks. And could I also get a cup of coffee with that please?"
Sure enough, she comes around a few minutes later with the "breakfast". I use the term "breakfast" because it would be insulting to call it breakfast. It consisted of a single croissant served with a some butter and a pot of preserves. To add insult, it wasn't even served on the table, or even on a tray. It was simply placed on top of the seatside storage unit. Wow. My visions of classy British Airways service completely evaporated at this instant. If someone had even suggested doing a premium cabin service at our airline (which has a significantly less posh image than BA First) in such a tacky fashion, they would have been shouted down in seconds. Yet here I am, in the front cabin of a BA Boeing 777, on a ticket worth thousands of pounds, being invited to partake of my repast from atop a glorified box. Pathetic.
Thankfully, we are soon on final approach to Mumbai and land about 30 minutes ahead of schedule. There is a veritable scrum at the door as some uncouth denizens of the nether cabins simply push past the poor cabin crew while trying to jockey for prime real estate. The crew wisely retreat to minimise the risk of being trampled and I am swept along by the pressing mass of humanity galloping in unison to the immigration desks. There is no line and my bags were already on the belt (despite lack of priority tag) by the time I arrived there. I emerged into the Indian sunshine no more than 20 minutes after touchdown, well rested but hungry. Overall, it had been a distinctly disappointing experience, especially as I had some pretty high expectations to begin with.
My week in India flew by far too quickly and it was soon time to return to the daily grind. I had originally planned to fly back to London on Jet Airways in First Class, but changed it a few weeks prior to fly via Brussels instead and connect to Manchester on their codeshare with SN Brussels. This allowed me to catch up on my missed weekend with my mates in Manchester from earlier in the month, as well as another rendezvous with my Emirates friend who had managed to trade schedules to get a coinciding layover. As icing on the cake, another good friend from Chicago was going to be in the UK that weekend and also arranged his schedule to coincide.
The drive from my home in Mumbai to the airport usually takes about 30 minutes, so I left home just after 1am for a 3am departure. Mumbai airport resembles a cross between a refugee camp and a railway station at this hour. It teems with masses of bedraggled creatures wandering around seemingly aimlessly muttering in a smattering of tongues, occasionally punctuated by the cacophony of an indecipherable public service announcement.
Having negotiated my way through the throng, I emerge at the Jet Airways checkin desks. As I begin to place my luggage on the X-Ray machine, one of the staff asks if I was traveling in Business Class. "No", I reply very simply. I then pick up my screened luggage and walk over to the First Class checkin. The girl saw this and began to apologise profusely. "I am so sorry sir, I didn't realise you were in First Class. I should never have allowed you to carry your own luggage. Please sir, please forgive me."
These histrionics were almost embarassing but seemed quite heartfelt, so I told the girl not to worry about it and that I really wasn't the kind of person who wanted a big fuss made over me. She seemed genuinely puzzled by this. "But you are in First Class sir, this is your entitlement." I thanked her again and she left me in the care of the checkin agent.
My boarding passes are issued all the way through to Manchester and a bright yellow tag is attached to the bag. The checkin agent apologises that they are waiting for the delivery of a new stock of First Class Priority tags, but as an interim measure they are using these bright yellow tags to indicate First Class luggage. Then she hands me over to the First Class Concierge who has already filled out a departure immigration form for me. She hands me a pen and asks me to review the details and sign in the box. I affix my scribble and she snaps her fingers at a porter to grab my hand luggage. "No, no, its fine! It's just a laptop and I can carry it myself." "Whatever you prefer sir. Do you wish to proceed immediately through immigration? If so, I will escort you through the priority lane." "Oh, don't worry about me. I know my way through the airport." "Sir, it is our priviledge to assist you. Today you are the only passenger in First Class, so you shall be our King. Our entire Concierge team is at your service." Wow. Just wow.
We progress through the immigration and security channels briskly, leaving the scowling proletariat in our wake. Jet Airways has arranged for their First Class passengers to be accomodated in a smaller and more private lounge than the hybrid bar used for Business Class. The lounge itself is well appointed with comfortable leather recliner chairs and flat screen TVs built into the wall. There is a generic lounge buffet of soups and finger foods which I avoid. It is not a patch on the spread found at the Galleries First lounge at Terminal 5 however. I read a magazine for a while and then the Concierge comes back to escort me to the boarding gate.
The scene at the gate is strangely reminiscent of the scrum at Heathrow the previous week with shoving and screaming and wailing babies and anything else unpleasant that you can think of thrown in for good measure. The Concierge meanwhile takes me to the front of the line and once again endears me to the proletariat by allowing me to cut ahead of them. I walk down the jetway and do not even have to present my boarding pass before I am greeted by name and escorted to suite 1A. I later found out that the Concierge briefs the crew how to recognise the First Class passengers so that they can be immediately identified and taken care of.
There are 8 private suites in the First Class cabin and I am the only passenger booked today. There are 3 crewmembers, including the Inflight Supervisor, who shall be serving me tonight and they come around one-by-one to introduce themselves. My jacket is taken and hung up in my personal in-suite closet. The Concierge also comes back on board to wish me a pleasant flight. She passes me a card with the 24 hour duty mobile number for the Concierge team and urges me to contact them with any special requests I may have on a future trip. Pre-departure drinks are offered. There is a choice of water, coconut milk and watermelon juice on the tray. "Or", offers the charming crewmember with an impish grin, "would you like me to open a bottle of Dom Perignon or Krug for you?" Oooh, tempting. I make a quick call to the office and let them know I'll be out of touch for the next 8+ hours, turn off my phones and sit back to be pampered.
Shortly after takeoff, the service begins. The crewmembers serving me are very personable and we have pleasant conversations at every interaction. Since everything on the menu is available, I ask for their suggestions and they reccommend the "Golden Martini" made with Grey Goose, Grand Marnier and Dom Perignon. This is served with a very elegantly plated selection of canapes. There is a light snack on offer and the crew serve me a combination of all the Indian options, featuring paneer, lamb kababs and chicken tikka, which they claim is best accompanied by a mojito so that the mint can take the edge off the spices. Finally, a small taste of assorted desserts accompanied by a Black Mozart liqueur.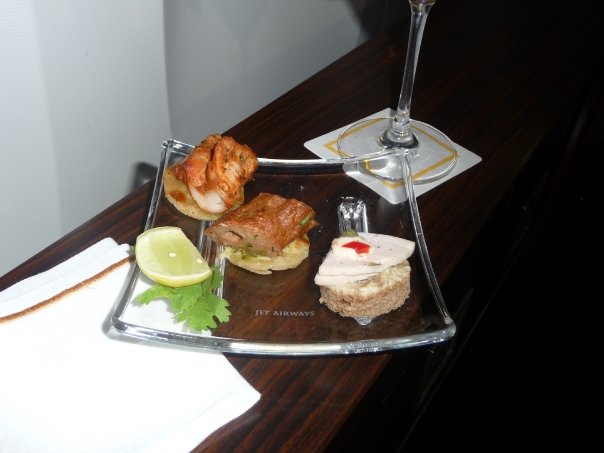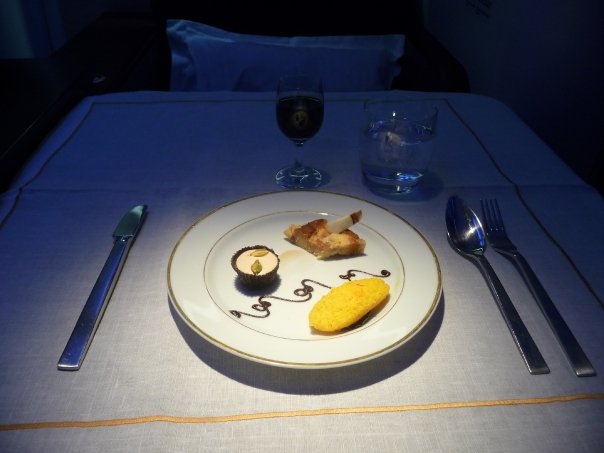 What seperates good service from great service is that good service caters to your every need but great service anticipates your every want. I simply cannot understate how perfect the service by this crew was. No sooner had I finished my meal was I presented with a set of pyjamas, a pair of slippers and an offer to set up my bed. By the time I had returned from the washroom, the bed had been set up for me complete with a refill of my liqueur on the side table. As I drifted off while watching a movie (a wide albeit poor selection of AVOD programming unfortunately), the crew came around to quietly close my suite door and turn on the DO NOT DISTURB sign. I slept like a baby for over 6 hours. By the time I awoke, the crew had taken the trouble to set up an amenity kit for me in my "personal washroom". It was these small touches that really impressed me.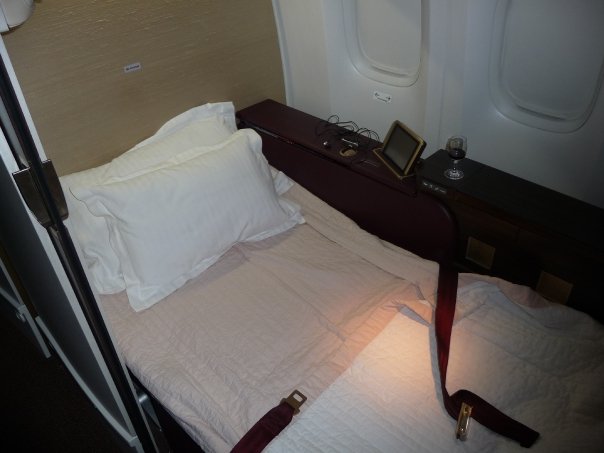 Breakfast was ready to be served by the time I returned to my seat. Again, the crew urged me to try a little of everything and so I struggled my way through a fruit platter, a Spanish Omelette and waffles. This was served with a wide choice of about a dozen different coffees. When I mentioned that I liked my coffee with a fair bit of milk, the crew suggested I try a Columbian blend that they felt was best suited to that. Their reccomendation, as I was coming to realise, was spot on yet again. Soon thereafter, we commenced our descent into Brussels.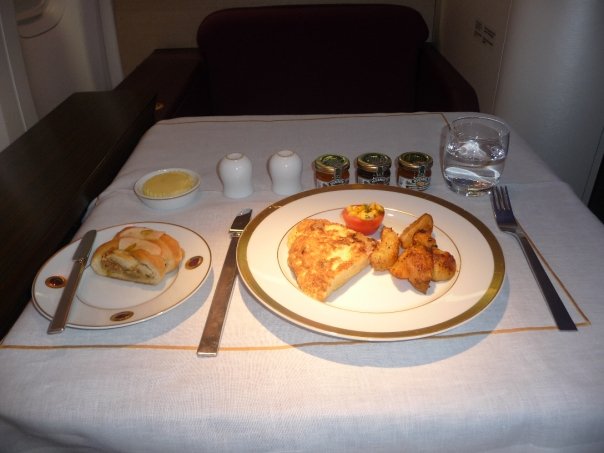 As soon as I turn my phones on, all hell breaks loose. I have at least half a dozen text messages on each mobile asking me to call Operations immediately. I do and am given the news that we had a tech problem that resulted in the Dusseldorf flight having to overnight. They have managed to line up a sub-service for the return leg this morning (our friends were paying back the favour we did them for Hajj last week!) but all the paperwork needs to be completed for our friends at the LBA. One of the text messages is from our CEO. She is requesting me to go to Dusseldorf and sort this out myself to ensure it runs smoothly. I am not thrilled at the thought, not least because my last Manchester trip got screwed up the same way.
The aircraft doors open and there is another Jet Airways Concierge standing there with an envelope addressed to me. The office had contacted Jet Airways to ask them to pass a message to me and Jet had arranged for it to be delivered directly to the aircraft. The concierge waited quietly while I made a few quick phonecalls and then asked if there was anything she could arrange in order to be of assistance. Why not? I told her that I needed to figure out the quickest way to Dusseldorf and that I needed to have my luggage redirected from the Manchester flight. She didn't even blink an eyelid. No problem sir, please come with me.
Once again, I was whisked past the proletariat to the front of the immigration line and admitted into Belgium. By the time we reach the ticket desk in the departures hall, there was already a printout waiting for me of the flight schedules (nothing from Brussels to Dusseldorf, but some options to Frankfurt) and also of the train schedules. I decided to pick the Thalys to Cologne, if only because the wifi on the Thalys trains would allow me to keep in touch during the entire journey. In the meanwhile, my baggage has been located and delivered to me. I head to the train station where I am just in time to catch the next service to Brussels Midi. It has been less than an hour since we landed in Belgium and thanks to Jet's fabulous ground staff, I have managed to complete alter my travel plans without so much as a hiccup.
It is a busy ride to Cologne as emails fly back and forth to get the relevant paperwork completed, signed and faxed off to the LBA in time for our departure. We manage to get it done just as we cross the Dutch border into Germany and I relax for a few minutes until we pull into Cologne Hbf. From there, its the RE train to Dusseldorf airport where I drop my bags off at the ticket desk and immediately race down to the gate. The captain today is the same guy who was deported from Lagos earlier in the month and I even have enough time to tease him about that before we close up and push back 3 minutes ahead of schedule. Mission accomplished.
And now Manchester awaits. Back at the ticket desk, I issue myself a ZED for the familiar afternoon flyBE service. A routine flight across to England, followed by a night of drinking. Then its BA down to Gatwick the next evening and back to base on the last departure of the year 2008. As the clock strikes midnight to signal the dawn of 2009, I reflect on the year past and the year to come. Once again, I am thankful for the opportunities that my job provides me and for my excellent team who empower and enable me to deal with the challenges presented. One day, I think to myself, I will have a lot of stories to tell. And in this report, dear reader, were some of them.